Sales Pitch Formats
A sales pitch can come in many different formats. An example of a sales pitch is a presentation that includes a PowerPoint Slide Deck and technology demonstration. Sometimes it is a more abbreviated version or a mini sales pitch, like when you are at a trade show booth.
Sometimes a sales pitch happens quickly in a hallway or an elevator! That is why having a strong salesman pitch that is prepared for these different scenarios is the key to success.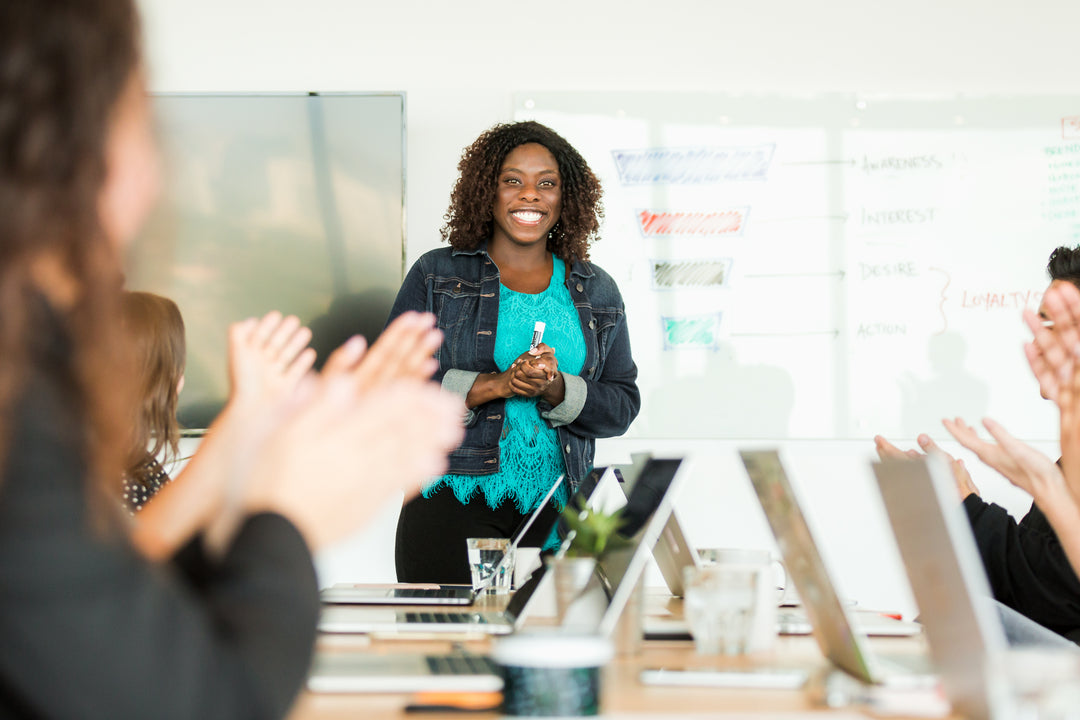 You don't want to fumble your Elevator Pitch
The last thing you want to do is fumble over your words. Using concise and deliberate language is something that sales reps often do not put much attention towards. They "wing" it, hoping that their innate charisma and charm are good enough. To take your selling career to the next level, you need to be thinking about the specific language you use to configure your sales pitch.
When to develop a Sales Pitch?
When I start at a new company or consult businesses regarding this, I like to start with a straightforward 60-second elevator pitch. I find that this simple yet powerful exercise forces everyone to get down to the meat of what is really powerful or meaningful regarding their solution.
Want more Example Sales Pitches
In my guide, I break down the components of a successful sales pitch and talk through examples of the many formats they come in.
Think about your sales pitch as a tool in your tool belt that can be whipped out whenever needed.
Click to enter your email to instantly download my winning cold call script for FREE
About Emily

the Author
I have been selling software for nearly 13 years and have been the #1 sales rep at every organization I have been apart of. I would often outsell entire sales teams of 4-5 reps in a given month or quarter. I am not some kind of sales prodigy or savant. The reason I am good at sales and was the top sales rep, was because I LEARNED how to do it. SALES IS 80% learned and 20% innate skill. Writing these guides is my way of giving back to the community and giving Sales Reps and Sales Leadership easy yet effective tools to increase revenue.
What Real Reps Are Saying
CHRIS CLOCK
"Before learning from Emily's methods, I was an 80% performer. After learning the tactics and process, I was able to get to 130% for 2 years in a row and secure a spot as a top producer and presidents club attendee. Any sales rep looking to exceed quota, should read this guide."
Australia
RYAN PARK
"I was lucky to work with Emily my first few years as a Sales Rep. The lessons she taught me on the importance of the basics- never short change rapport, consulting = control = predictability of a deal, and don't be afraid to ask for the business when you know you have delivered value. These items were paramount in my success then and now. I couldn't recommend Emily's guide more to "tell you like it is" just like she did with all her customers and prospects as a Sales Rep."
San Francisco
SYDNEY BONAR
"Emily's guide is an absolute knock out. Her ability to laser focus and drive a succinct, repeatable process is unmatched. Her process has grown me as a sales person to be customer focused, business results oriented and always selling top value, strategic initiatives that have high propensity to convert into happy customers."
San Francisco
Do you want to...
Be in the Top 10% of your Sales Team
Less Stress hitting quota
Our Sales tips are tactical and can be deployed quickly and easily into your process today. Create a predictable pipeline and lose the stress.
Win all the Sales Spiffs
Our content was developed by a Top Sales Rep. Use the tactics to help you wipe the floor with everyone and clean up on the prizes, accelerators and spiffs.
Maximize Commission
You are in sales because you like money! Let us help you earn more. Our Sales tactics have helped Reps just like you go from a 70-80% Quota Attainment to 130%+
Always Attend Presidents Club
Get a perminent seat at Presidents Club every year by being in top 1-10% of your Sales Team. If you don't have presidents club, you will have huge leverage to ask for a big raise.

If You
Still Need
More Convincing
Learn more about Sales Guide